(Today's post comes from horror writer and gnome observer Michael Crane. For horror drabbles and, possibly, more gnomish insights, follow him on Twitter or Facebook.)
EFFIN' GNOMES…
People think it was all fun and games when I wrote A Gnome Problem, a goofy little story about some maniac gnomes who go after a narrator's buddy. But they don't realize the serious problem that this great country is facing.
Effin' gnomes.
You see them everywhere you go. Go to your nearest Target, and I'm sure you'll find a few on their shelves. Menards? Yep. It's been well documented that they hang out there as well (I've taken pictures!). They're so deceiving, too. They have these cute little smiles on their oddly shaped faces, hoping to trick you into thinking they're adorable and innocent.
They are far from innocent.
Don't believe me? Go ahead and buy one. Put it in your yard. Hell, buy a few of them if you're really doubting me or think I'm a crackpot. It won't take long for you to notice. When you wake up in the morning, your garbage cans are tipped over with junk piling up on your driveway. You think it's raccoons?
Hah! That's what the little bastards want you to think!
Lightning during a really bad thunderstorm? Who the hell do you think is summoning the lightning, hmmm? We'd love to think that Mother Nature has a mind of her own, but she's really doing the gnomes' bidding because deep down, they even scare the living crap out of her.
They may not beat up your stoner buddy like they do in my novelette, but trust me, they don't play around. It's the little, subtle things they do that nobody notices. All of the sudden ants are in your house. Coincidence? Or maybe you get a flat tire one morning. Sure, the dealership told you that your tires were starting to overstay their welcome and you would most likely have to get new ones the next time you showed up for a checkup, but really, who the hell do you think made damn sure that it happened a lot quicker than you expected?
Your cat runs out of the house. Why? Because you left the door open?
You silly, silly naive fool.
Why do they do this? Maybe you left the sprinklers on. Gnomes don't like to get wet. Like Gremlins. Wait, no… they wanted to get wet so they could multiply. Gizmo was the only one who didn't want to get wet because he knew the trouble it would bring.
I apologize for the little movie detour I took just there. Maybe… the gnomes did it.
The real truth is the gnomes do what they do because they can. Because it's fun for them.
Effin' gnomes…
Giveaway!
Tell us what you find suspicious about gnomes! One comment on this blog will win a copy of Michael Crane's novelette
A Gnome Problem
as well as his new collection of horror drabbles,
Lessons IV: The Dead Carnival and Other Morbid Drabbles
. (
I have two horror drabbles in there, too: "The Jungle Ride" and "The Bottle Game."
) These will be gifted via Kindle, Nook, or Smashwords.
AND...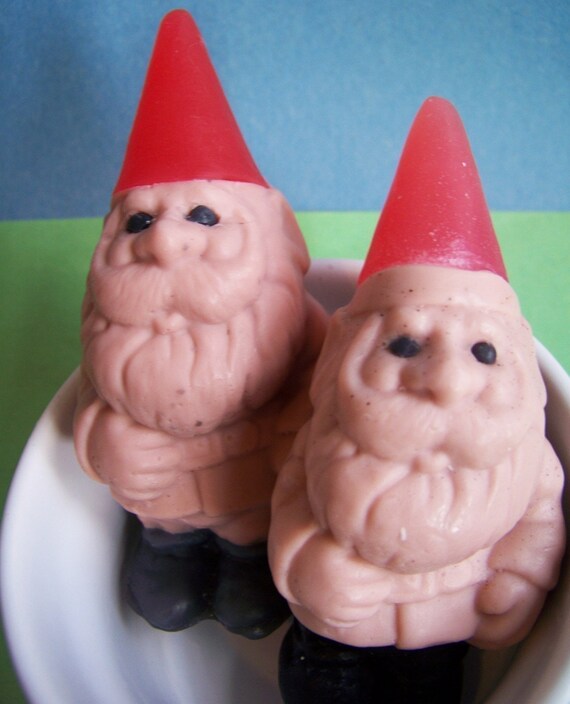 You've always been curious but never dared to try...it's GNOME SOAP!! Yes, this moisturizing milk-and-honey fellow could be your new bathing companion! Just say "gnome" to boring soap!
This
international
giveaway closes at 11:59 Eastern time this Saturday, with the winner announced on Sunday's "Prize Booth"!
The Midsummer Dream Fair was brought to you today by: