QUEEN MAB LOVES YOU!!
Once a year, the ruthless highly accomplished Queen Mab shows her love for all the Folk in Faerie by giving out free lollipops. Free Lollipop Day is now one of the most beloved holidays in the fairy world, almost as popular as Funny Hat Day and
Steal A Kiss Day.
Giveaway! To prove how much she loves you, Queen Mab offers you lollipops. But these are no ordinary candies! They are lovingly hand-crafted by a master chocolate artisan and painted with fairies: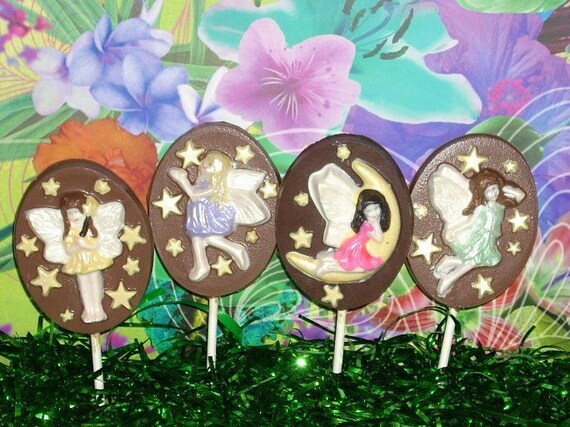 Because the Queen is kind and generous, she gives you, the peasantry, the choice of milk, dark or white chocolate. Because fairy chocolate is delicate, and cannot exist for long before someone finds it and eats it, this giveaway is available
today only
.
To enter, simply make a comment below complimenting Queen Mab! Compliments about her beauty, strength, fashion sense, brilliance, and wisdom are particularly welcome! (
Note:
Any references to silver-mine slavery, the imprisonment of noble fairy families, or oppression of the elves will result in immediate disqualification, and you WILL be thrown into the labyrinth!)
Whichever compliment pleases the fairy queen most will win the lollipops! You may comment
as many times as you like
, the Queen loves it when people crawl over each other to praise her.
Have a Very Licky Lollipop Day!!
This giveaway closes tomorrow (Sunday) at six A.M. (Eastern time). The winner will be announced in tomorrow's Prize Booth post. In compliance with the rules of NAFTA (The North American-Faerie Trade Agreement), Queen Mab's chocolatiers have restricted this giveaway to US residents.
The Midsummer Dream Fair was brought to you today by: