(
Today, we stop by the unicorn corral near the back of the fairground to speak with Amanda Hocking, who is apparently hanging out over there near the unicorns. We'll be discussing topics of great importance to the world today, inside and outside the publishing business.
)
Q. Hi, Amanda, thanks for coming and helping provide things for people to read!
A. Thank you for letting me!

Q. The Muppets have decided to get into the apocalyptic zombie genre and are doing a movie version of your novel Hollowland. Which Muppets would you cast for the movie roles?
A. The obvious answer would be make Miss Piggy Remy, but I think that Camilla the Chicken would make a better Remy, because she's still tough but less of a diva. Miss Piggy would be Harlow. Gonzo would be Lazlo, Kermit would be Blue, and Beaker would be Ripley.

Q. What are the best fantasy and horror movies of the 1980s?
A. Labyrinth, obviously. And I'd also have to say The Empire Strikes Back and Return of the Jedi, even though they fall more under sci-fi/fantasy. The Dark Crystal, Aliens, Blade Runner, Legend, Willow, The Lost Boys, Ghostbusters, Gremlins, Little Shop of Horrors, Time Bandits, Princess Bride, Beetlejuice, Highlander, Nightmare on Elm Street, Friday the 13th, An American Werewolf in London, The Evil Dead, Child's Play, Poltergeist, Jaws: The Revenge. The 80s was the golden age of sci-fi/fantasy/horror films. I also recently read that Batman falls under the category of "fantasy," Tim Burton's Batman would be one of the best that came out in the 80s. Also, Flash Gordon came out in 1980, and while I love that film, I can't in good conscious say it was one of the best.

Q. If Zach Galifianakis and your consigliere Eric Goldman were in the same place at the same time, what would happen to the universe?
A. It would most likely implode. (If you haven't seen Eric, he looks almost exactly like Zach Galifianakis but with the personality of Johnny Depp's version of Ed Wood. Be jealous, folks. I get to live with that untamed man-child every day).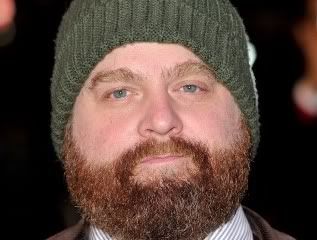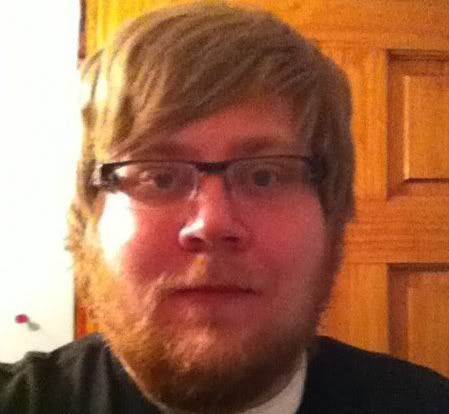 Zach Galifianakis and Eric Goldman. Similar.

Q. What do you think would be the biggest challenge about life in an Ewok village?
A. Since they have no clear waste disposal – at least not for man-made materials – I would think that cleaning up after the mess the storm troopers left would be quite a burden. All those broken AT-STs and speeder bikes lying around, as well as the storm trooper uniforms and the rotting storm trooper corpses themselves. Plus, there had to be some debris from the Death Star. So trying to hunt and gather would be very inconvenient amongst all that mess, especially since Ewoks seems to have a religious affinity for metallic items as expressed in their worship of C3P0.


Q. If you were building your supervillain fortress, would you locate it on a tropical island, in the arctic, under the ocean, on the moon, or other?
A. I would probably put in my basement, like an evil Batcave, just out of laziness. I don't want to have to juice up the rockets and make the long flight to the moon just to do my evil plotting. Plus, that doesn't seem cost effective, especially if I have an issue with my plumbing and need to get a repairman out there. Also, I have a hard enough time getting a signal in my basement as is. Reception on the water or the arctic would have to be terrible.

Q. Tell us about your pets!
A. I have some! I currently have a schnauzer named Elroy, two cats named Nikki and Squeak, and two fish named Figaro and Delaney. I used to have a turtle named Gus, but he lives up in turtle heaven right now, watching reruns of "Teenage Mutant Ninja Turtles."


Q. Why do paranormal creatures generally maintain a monarchical system of government within their own societies? Do you think they've read John Locke's Two Treatises on Government but rejected his conclusions?
A. Because they tend to be more wild, more animalistic. Not all of them, but most paranormal creatures give into their hedonistic urges more often than humans do. As a result, democracy would be impossible. Werewolves aren't going to get together to vote. And many paranormal creatures are too narcissistic to vote for anything other than themselves. So the biggest and the strongest needs to come in and tell everybody to shut up and calm down.

Q. Fill in the blank: If I could be a were-anything, I would be a were-_________.
***
Thanks, Mandy! And now it's time for a...
Giveaway!
One comment on today's post will win a copy of Amanda's fairy-tale novel
Virtue.
But wait, there's more! You can't be expected to read
Virtue
without your own unicorn. So...
You can win a fine cornhorse of your own! Because of the latest innovations in unicorn-breeding techniques, we can provide you a custom unicorn. Our unicorn breeder would like you to know:
"The pony can be any color. I usually do sparkly white or pearl, but I can do whatever you want. You can pick the hair color and the color of the eyes and hand painted decoration. I usually do flowers, but anything goes! As always, this pony will be a one of a kind %100 hand sculpted with no molds used or taken. I always use a sturdy wire armature for support. Your pony will take about 2 weeks to complete. ponies are about 3 to 4 inches."
To enter to win
Virtue
and a unicorn, comment below. You might tell us what kind of unicorn you would like!
This giveaway is open until 11:59 PM (Eastern) this Saturday. The winner will be announced in the "Prize Booth" post on Sunday! (Due to unicorn transportation restrictions, this giveaway is
U.S. only
.)
The Midsummer Dream Fair was brought to you today by: